Potato Grow Bag Kits £5.99
Welcome to the Rutland Garden Centre website
Situated in Oakham in the heart of beautiful Rutland, our garden centre offers the Real Gardener great Quality, Value and Choice along with a Friendly and Personal Service.
We specialise in a complete range of plants, trees & shrubs complemented by a full range of hard landscaping products such as paving, decorative aggregates, fencing & sundries.
Birds are often a mixed blessing in the garden: they'll swipe your berries, but while they're at it they'll also strip aphids from your roses, eat small slugs and hoover up caterpillars too. On the whole, they do far more good than harm: and besides, they're lovely to watch as they flit around…
Read more
PLANT OF THE WEEK: SNOWDROPS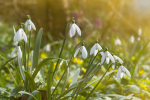 The sight of brave little snowdrops pushing their way through the frostiest ground gives every gardener new hope. Once the first porcelain petals have opened you know winter aconites and crocuses aren't far behind: before you know it every inch of soil is bursting with dainty colour and the gardening year has begun.
Give snowdrops dappled shade in soil enriched with compost or even better, leafmould – autumn leaves rotted down for a year or two to mimic the woodland floor snowdrops love. Snowdrops make beautiful partners for winter shrubs like dogwoods and witch hazels, and other spring flowers including hellebores, winter-flowering aconites and Cyclamen coum.
Lift horseradish
Lift horseradish clumps which are more than two or three years old and replant them back in the same spot. This prevents the big hefty taproots getting too established and so stops your plants becoming too invasive.
Weather forecast
Current weather
Smoky
3°C
Forecast Fri
Showers
Forecast Sat
Showers